In an old house in Paris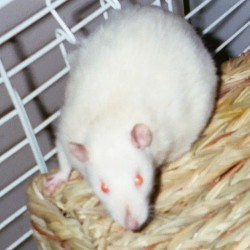 Not far from the Seine
Lived two little rats
Bijou and Madeleine.
One of them black
And one of them white
Both of them born
In the City of Light.
They had croissants for breakfast
And steak frites at noon
Champagne in the evening
While they played Claire de Lune.
They went every morning

To the Palais Royal
At night danced the can-can
Up in the Pigalle.
On Sunday they went to
St. Germain-des-Prés
And then for a walk
On the Champs-Elysées.
And this they can say,
Bijou and Madeleine
The best thing to be
Is a Parisienne!