---
...and the newest one is Madeleine.
A fourth rat! This is unbelievable. And another girl, when I used to only take males. An employee at my vet's asked me the other day if I get my pets from rattie rescues. I said (and it's the truth) I run my own rat rescue. These people that own the pet store I go to have a lot of patience with me, maybe because I spend a lot of money there and take animals no one else wants off their hands. They let me grab my boy Raphael right out of the feeder tank and take him home. Now I always walk into the back to say hello to the rats, even if they are going to be dinner the next day. A few weeks ago I saw a black rat, very pretty, with a lot of babies in an aquarium tank. They told me she was nursing her own litter plus that of another rat. The next week I made a point of going back with Remy (my hooded beige boy). I didn't recognize her because she was lying on her back and her underbelly was white. Most of the babies were gone. They had been sold as food. I asked what would happen to her, and of course she was going to be a feeder also. They were quick to add that I could have her when she was through nursing.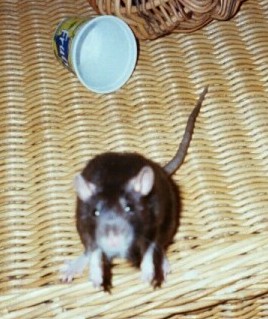 At that point, what do you do? When I went to pick her up, she came right to me. She couldn't wait to get out of the tank and out of the store. She wasn't at all traumatized like Raphael. She was grinding her teeth all the way home in the car. Since two of my rats now prefer to cohabit, we had a nice big cage waiting for her. Madeleine is very sweet and friendly, and smart! She learned her name in one day. Everyone loves her. She's very social, even though she was dumped by a breeder into a feeder tank and has never been a pet. Being pregnant saved her life. She was spayed a few days later and has made a good recovery. She loves exploring in and outside the cage, enjoys being petted and started nibble grooming right away. She's eating well, and her fur is coming in nice and silky.
Madeleine is named for the St. Madeleine landmark church in Paris and for the little girl in the children's books. One of them is called Madeleine's Rescue.