---
Critter Cubby-Hole Ball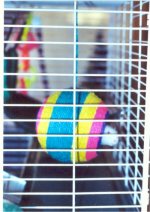 This sleeping spot is wrapped with colorful rope and designed to hang from the attached sisal rope. The opening is large enough for 2 small rats to sleep together or for one large rat alone. The inside made of durable plastic makes for easy cleaning. My smaller females enjoy climbing inside for a snooze. Reasonably priced at approximately $5.50.

Drawback: There have been two reported rat deaths after the sisal rope had been chewed and the ball fell face down trapping the two rats inside. It is recommended that airholes be cut in the back of the ball for safety.




HIGHLY RECOMMENDED
---
Hog Hollow Hide-Out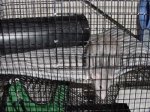 The Hog Hollow, a tube for running through or just plain hiding out, to escape annoying little ones or that dominant Alpha Rat. Made of durable plastic, easy to clean and place anywhere that your rats like to frequent. Priced at approximately $5.50.

I found that after trying this with the girls they much preferred the Critter Cubby-hole.


MIGHT BE FUN
---
Critter Inn
The Critter Inn, easy clean plastic, that makes for a nice cozy sleeping place or hideaway, especially when adding some of the colorful nontoxic paper crinkles. My rats love to hide their yummies in here when saving them for later munching. The Critter Inn has two attached plastic hooks in back that allow you to fasten it securely to the cage while sitting on the shelf or to raise up higher depending on rats preference.




HIGHLY RECOMMENDED
---
These toys can be purchased at most large Pet Stores. The Super Pet toll free number is (800)252 P-E-T-S.
---
Manufacturers--Please send all products for testing to:
Rat & Mouse Club of America
13075 Springdale St.
PMB 302
Westminster, CA
92683
All products reviewed become the property of Rat & Mouse Club of America.