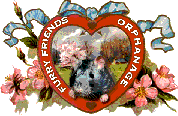 Lots of loving friends are waiting to meet you at the RMCA sponsored Furry Friends Orphanage foster homes.
They want to share your life and be your loving companion.
The Rat and Mouse Club of America is dedicated to helping abandoned and abused domestic rats and mice throughout the country via concerned members willing to open their homes as foster care units. Each member willing to volunteer their services will be added to a list of rescue contacts and will be eligible for financial help from the Furry Friends Orphanage fund for the orphans in their care until placed in loving homes. The only way this program can succeed is through your generous support and we encourage you to let a furry friend bring joy into your life.
---
DONATIONS
---
If you would like to donate money or other items (i.e., rat and mouse supplies), please contact us at:
or email for more information.
Make check payable to RMCA. We also accept monitary donations through our site: Donations.
---
Individual rat rescues / adoptees can be found (and often posted) on the following sites:

Jane Sorensen's PDF poster (printer friendly) about abandoned pets. (Many thanks to Stephen Holton and Kim Roper for their help on this rescue!) Feel free to print and distribute: