---
Chapter 17: Birthday Girl
---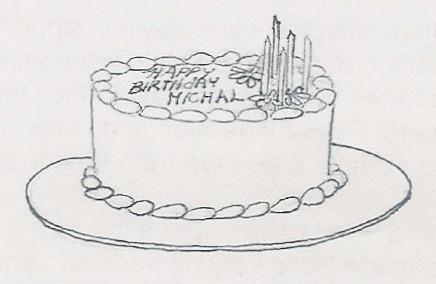 Belle hummed merrily while she worked. It was Lil Mike's birthday. She had been working on a present all week. This was the first time that Belle had ever been officially invited to a Rose family party; she wanted it to be special.
Belle had carved a little figurine. It was of a little girl sitting on a pony with a dog, a cat and a rabbit gathered around. The little girl's arm was raised up and there was a small winged creature sitting on her finger. Belle had been careful not to make the winged creature look too mouse-like. After all, Grandpa James had never quite forgotten about the fishing trip. (Lil Mike had promised to keep Belle a secret. But, he still caught her talking to invisible friends now and then.)
The party was going to be lots of fun. There would be games and a treasure hunt. They would eat veggie hotdogs and hamburgers, fruit salad, homemade lemonade, cake and ice cream and even home made pie. Oh, and don't forget presents.
Seven little girls from Sunday school were coming over and the whole Rose family would be there. Pat the Gypsy was coming and the Purple Knight had been invited too.
The morning was bright and clear as the family set up the tables under the maple trees in the yard. Balloons floated in bunches all along the fence. The boys were setting up a stereo system for musical chairs. Grandma Lissa was finishing the cake. Marie was helping Lil Mike get all dressed up.
Buddy had been given a special brushing and Lil Mike had put perfume on Pal (he wasn't happy about that one bit).
Snow was wearing ribbons in her mane and tail. She looked fine. Wink was as excited as a humming bird in a tree full of flowers.
When the little girls arrived Lil Mike came out all dressed in ruffles and lace with her pretty blond hair twisted up into a sparkling crown.
Soon squealing little girls were playing happily. Belle in the maple tree was nearly cross-eyed trying to keep an eye on all of them.
The games started with Pin the Tail on the Donkey. Then they played Musical Chairs, Blind-Man's Bluff and Duck Duck Goose. Lil Mike would look up at Belle and wave from time to time. Belle laughed and waved back.
JT, Joe and the four cousins gave the little girls turns at Blanket Toss. This made Belle very nervous and she was very glad when it was over.
Soon the group was hungry and everyone ate until they were full. The grandpas manned the grills, the grandmas served, aunts and uncles helped out and Marie took lots of pictures.
When the cake came out with five candles on it everyone sang "Happy Birthday."
Lil Mike got so many great presents. Dolls, a pink teddy, a purse, two toy cats wearing purple ribbons (from the Purple Knight), clothing, shoes and many other things. And in a little box with no card she found a beautiful figurine. No one seemed to know where it came from. (Of course you and Lil Mike know but remember it's a secret.)
The last game of the day was a treasure hunt. The little girls hunted for baskets full of candy and party toys. The little girls went home tired and full and happy.
The Rose family cleaned up the party mess and then had a second party all their own. Joe got his harmonica, Pat and James got their violins, Travis got his guitar, and the Purple Knight brought out his mandolin. The family danced and sang into the night. Belle in the tree sang right along. It was a time for happy songs.
Late that night Grandpa James tucked his Mouse into bed. His leg was still in a cast. He slowly climbed down the stairs. It would be different around Cherry Hill Farm. Lil Mike was growing up. She would be starting kindergarten in just a few weeks. James knew better than anyone just how lonely that was going to be for him and the guardians. If only she didn't have to grow up.
Belle watching from the windowsill understood. She sang James a sweet dreams song that night. "Good night old friend," she said. "I will miss her too."
---
---